NOW
gina marie's bodybuilding web page

Location
3.8 miles west on Rt.54 from Rt. 1
#1 West Fenwick Station
Selbyville, (West Fenwick), Delaware 19975
We are conveniently located on the Maryland /Delaware state line. 3.8 miles from the Ocean City & Fenwick Island Beach Resorts.
To Contact:
Phone: (302) 436-9001 / Fax: (302) 436-9472
e-mail: maxgrafix@earthlink.net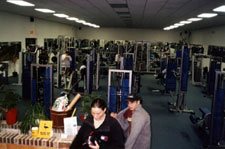 Hours
HEALTH CLUB
Mon.-Thurs.: 8 AM - 10 PM
Fri.: 8AM - 9 PM
Memorial Day - Labor Day: 7 AM - 10 PM
Saturday: 8 AM - 8 PM
Sunday: 10 AM - 6 PM
TAE KWON DO
Tuesday & Thursday
7:00 PM

Facility
Fully mirrored 10,000 sq. ft. health club we offer circuit weight training as well as free weights, cardio, aerobics and tae kwon do
Fully mirrored multi-use room with wood suspension flooring and TXH sound system.
Full Locker Room & Shower Facilities
Cardio Room
Tanning Beds
Dry Saunas
Eucalyptus Room
Pro Shop
Juice & Nutrition Bar
Supervised Training & Rehabilitation
Fully Certified Staff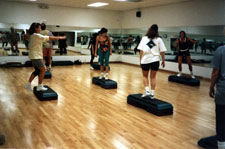 Equipment
York® Free Weight, Dumbells, Barbells
All the necessary equipment for the serious trainer. Everything from accessory bars, grips, etc. Dumbells upto 150lbs.
German-Made® Weight Machines
Quality weight machines and benches. Chest & Shoulders: Military press, bench press, incline benches, decline benches, cable cross-overr. Legs: Squat rack, 45 degree leg press, hack squat, leg extension, smith-machine, hamstring curl, standing hamstring curl, sissy squat, seated calf, standing calf, donkey calf. Back: Lateral pull-down, seated row, T-bar row, extension stand. Arms: Tricep dip stand, tricep pushdown, cable cross-overs, preacher bench.
Panatta® Circuit Weights
Fantastic 36-piece European-made circuit weight system.
Chest: Chest press, incline press, incline fly, horizontal fly, pec-deck. Shoulders: Military press, lateral raise machine, rear deltoid machine. Legs: Squat machine, inner thigh machine, ourter thigh machine. Arms: Bicep curl, weight tricep dip, tricep extension, tricep pushdown, wrist-curl. Back: Assisted/weighted pull-up, seated row, t-bar row, low-back rehabilitation machine. Abdominal: Lower-ab knee raise, oblique/abdominal machine.
Rehabilitation Equipment

Lower lumbar rehabilitation machine
Services
Personal training
Injury Rehabilitation
Diet & Nutritional Counseling
Body Fat & Fitness Analysis
Supplement Counseling
Aerobics / Step Aerobics
Tae Kwon Do
Tanning Beds
Dry Sauna
Eucalyptus Room



Club Rates
Daily - $8.00

Monthly - $52.00

3 Months - $145.00

6 Months - $274.00 ($100 down, $29 per month)

12 Months - $424.00 ($124 down, $25 per month)





Coupons
Haven't had time to do a real coupon but if you print this page out and bring it to the club we will give you
$1.00 Off
Daily Visit
Coupon is valid one coupon per customer (not per visit). Coupon not valid with any other specials or offer.



Affiliations
MEMBER
National Strength & Conditioning Association
College Sports & Medicine
National Physique Committee
Amateur Athletic Union

Certifications
B.S. DEGREE in
Exercise Physiology
Sports Management
Health & Fitness Management
General & Sports Nutrition
---
home | gina's home page | max grafix | american health & fitness 
| brake for ducks | my pets | towncats | lost & found